公司简介
ISOMET成立至今已经超过60年,是世界上最早研发和专业生产声光调制器的厂商。拥有技术领先的工程师队伍,能自主控制从产品原型设计、研发测试到生产制造的全过程。声光调制器所有关键部件的制造与集成都在美国工厂完成,并提供流程对产品的可靠性及稳定性进行控制。ISOMET能够制造生产各种不同领域用途的AO产品和器件,满足科研和工业领域用户对声光调制器及配套设备的需求。
产品列表

Acousto-Optics
All AO devices feature a piezo-electric transducer bonded to one face of a crystal material. When an RF drive signal is applied to this transducer, a travelling acoustic wave is generated in the crystal. Due to the photo-elastic effect the acoustic column produces a periodic change in the refractive index, similar in effect to the slits of a diffraction grating. Practical AO devices are designed such that a high proportion of the incident laser light is diffracted into a single output order. This is operation in the Bragg regime.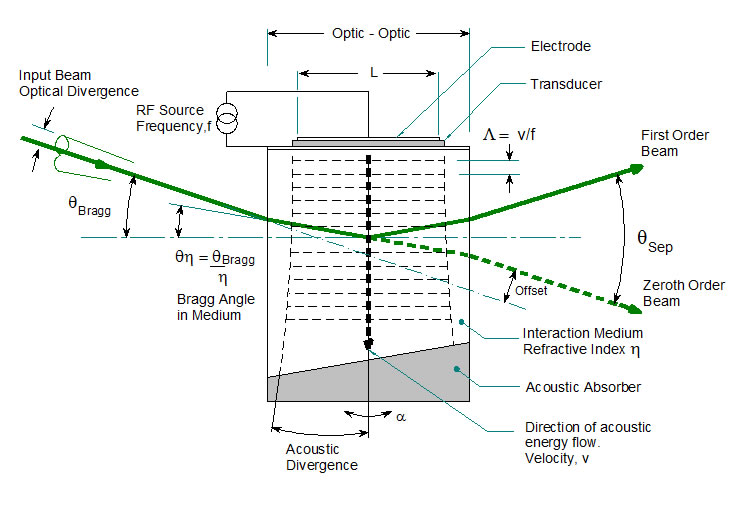 Bragg diffraction requires a defined interaction length (L), and the laser light to be input at a specific angle. The Bragg and separation angles are a function of the optical wavelength, the RF drive frequency and the crystal acoustic velocity (V). Some AO crystal types require the input beam to be polarized.

The RF drive frequency determines the output angle of the diffracted beam and the RF power determines the beam intensity. These are the basic control mechanisms of AO modulators and deflectors.
Modulators NIR
Frequency Shifters
All AO devices apply a frequency shift to the diffracted output beams. Acousto-optic frequency shifters (AOFS) are compact devices designed specifically for this task. Depending on the selected Bragg angle, these devices will either up-shift or down-shift the laser light by the frequency of the applied RF signal. Two or more devices can be cascaded in order to achieve sum or difference frequency combinations. Compound absorber angles are incorporated to minimize acoustic reflections.
Deflectors Blue - Red
1 Rayleigh Resolution equates to the maximum number of optically resolvable spots (angles) alone a scan line.
2 Incremental resolution is infinite, limited only by the frequency resolution of the RF driver.
Q-Switches
Q-switches are intracavity devices used to generate very high peak power, short duration laser pulses. These are typically loss modulators operating on the zero order beam. The goal of a Q-switch is to diffract as much power from the zero order as possible to increase the cavity loss and extinguish the laser output. When the RF drive to the Q-switch is momentarily turned off, the optical power built up in the laser is emitted as a short pulse. The process may be repeated at rates in excess of 100KHz. Depending on the frequency and interaction length, AO Q-switches either operate in the Bragg regime, just like an AOM, with predominately a single diffracted beam or in the Raman-Nath regime with multiple diffracted beams.
Electronics
Isomet produces a comprehensive range of frequency sources, RF
drivers, power amplifiers and control electronics. These range from simple
fixed frequency AOM drivers to complex microcontroller based high speed
digital synthesizers.
Custom designs are our speciality.
Please select the driver type you are interested in from the menu on the left
Modulator Drivers
Frequency Sources
Model
Controls Functions
Max tuning range (MHz)
Resolution
Outputs
RF Power
Feature
Frequency Synthesizer Source **

iMS4-P

Yes

20-200

32bit

4

1mW

USB programmable

iMS4-L

Yes

20-200

32bit

4

1mW

USB programmable

iMS4-P-Fx2

Yes

150-400

32bit

4

50mW

USB programmable

iMS4-L-Fx2

Yes

150-400

32bit

4

50mW

USB programmable

iSA-SF2

Yes

20-200

32bit

2

1mW

USB programmable

Synthesizer with Integrated Amplifier(s)

iSPA-SF1-X

Yes

20-250

32bit

1

1W to 4W

High power

iSPA-SF2

Yes

20-200

32bit

2

1W

Differential frequency

iSPA-MF4

Yes

20-200

32bit

1

1W total

Mixed frequency

Crystal Based, low frequency

811C-L-10




10

50ppm

1

300mW




811C-L-15




15

50ppm

1

300mW



** Please note that these devices require an amplifier to drive an AO device
技术优势
ISOMET是声光调制器产品的垂直产业链生产商,所有关键过程如晶体生长和加工、真空粘结、镀膜等生产工艺都是in-house完成。拥有基于声光晶体材料对通信固件的原型设计、生产制造能力;同时也提供AOM的光纤耦合产品,对可见光/近红外的AOM和频移器进行光耦合。
ISOMET's technical foundation is in the design, development and production of acousto-optic devices, RF electronics and optical sub-systems. The company began in 1956 growing and processing exotic crystal materials. We were one of the first to offer commercial AO modulators into the laser market. Our high volume production facility has a well-earned reputation for supplying on time, cost effective products of consistent and excellent quality. Customers range from basic research establishments to global OEM system manufacturers. Non-disclosure agreements restrict publication of our OEM partners. Many ultimate end-users are world renowned. In the scientific community ISOMET devices are found across a wide range of disciplines. A notable example is the pioneering research by the 2001 Nobel Prize winner Dr. Wolfgang Ketterle.
---
Special Devices
Our engineers have broad based experience in acousto-optics, electronics, opto-mechanical design and applied laser technology. ISOMET has introduced many novel AO devices to the market and has received several patents for innovations in the field of acousto-optics.
Contemporary designs include:

•High resolution XY deflector :
LS110A XY

•Variable bandwidth tuneable filter :
AOTF1110-VB

• Dual beam modulator with fast switching between +1 or -1 output beams : DBM1186

• AO frequency shifters with simultaneous up and down shifted outputs :
OAM1059-V31

• Compact single package integrated AO modulator with RF driver :
IMAD-P80
Crystal

Transmission*

Polarization

Main Feature

Main Use

Optical

Damage

PbMoO4

440nm to NIR

Any

High efficiency

AOM, AOD,AOFS,

Moderate

TeO2 (L)

360nm to NIR

Vertical Preferred
(Insensitive NIR)

High efficiency

AOM, AOD,
AOFS, AOQ (LP)

Moderate

TeO2 (S) (off-axis)

360nm to NIR

Circular (Linear)

Very High efficiency
Slow acoustic velocity

AOD,AOTF

Moderate

Glass SF4, SF6,
SF10, SF57

400nm to NIR

Any Vertical Preferred

Lower cost,Robust.
Moderate performance

AOM

Good

Quartz

200nm to NIR

Vertical

High damage threshold

UV AOM,AOQ

High

Fused Silica (L)

200nm to NIR

Vertical

High damage threshold

UV AOM,AOQ

High

Fused Silica (S)

200nm to NIR

Random

High damage threshold
Poor efficiency

UV AOM,AOQ,

High

Germanium

2 – 20um

Horizontal

High Power

AOM, AOD,AOFS

Good
* Operating range specified by A/R coating
ISOMET提供客户化产品定制、抛光,并掌握大多数光材料抗反射镀膜工艺,尤其专长对PbMoO4的镀膜工艺,可提供24小时轮回镀膜作业。