公司简介
ASPHERICON公司位于德国Jena,主要生产高品质非球面镜(ASPHERIC LENS)镜片,材质有FUSED SILICA和玻璃.可提供各种尺寸和焦距供客户选择.
产品列表
Aspheric optics at maximum precision
The comprehensive product range from asphericon offers a customized solution for your application. Discover a large number of user-specific elements as well as standardized aspheric optics in stock – from high-quality aspheres, axicons and aspheric cylinders through mirrors and reflectors to ultra-precise mounted optics. In addition asphericon offers the innovative BeamBox, a modular beam expansion system that enables up to 32x diffraction-limited beam expansion.
asphericon Custom

We develop the optimized solution for your aspheres and optical components and manufacture at the highest level of precision.

Materials: Glass | Fused Silica | PMMA | Metals | IR lenses | IR crystals | CaF2

Shapes: Aspheres | Spheres | Acylinders | Axicons | Diffractive elements

Wavelength: UV | VIS | NIR-IR-FIR

asphericon StockOptics

Choose from our immediately available aspheres, axicons, aspheric cylinders and beam expanders and order conveniently online in our Webshop.

Precision-polished aspheres with superior surface quality

Short delivery times thanks to delivery from stock

Attractive volume discounts thanks to cost-optimized production processes
Benefit from our knowledge, expertise and experience gained in numerous demanding client projects. Our unique technological equipment enables the manufacturing of optical components for all wavelengths in various shapes, using a very wide range of materials. Combining this with our high-end manufacturing processes and applications, we routinely achieve unique levels of dimensional accuracy.

asphericon assists you from the initial optical design, through manufacturing and coating, precision metrology and documentation, to the assembly of optical modules and optical characterization.
Axicon
In contrast to aspheric lenses, the shape of an axicon resembles a cone. The conical shape of the axicon generates a ring-shaped beam profile. The diameter of the ring beam depends on the axicon angle and decreases as the distance between the axicon and image plane grows. The ring width (see Fig. 1) remains constant.
Axicon: Highly precise from asphericon
Besides an exclusive selection of highly precise 1" and 2′′ a|Axicons directly from stock, asphericon also produces convex and concave axicons as an Custom solution. The production of prototypes, small series or series is carried out according to the requirements of asphericons customers. Almost all optically effective materials are suitable for manufacture using specially developed CNC-controlled grinding and polishing processes. Precision of up to 200 nm global form deviation (irregularity) or 40 nm RMSi is achieved by asphericon
Applications of axicons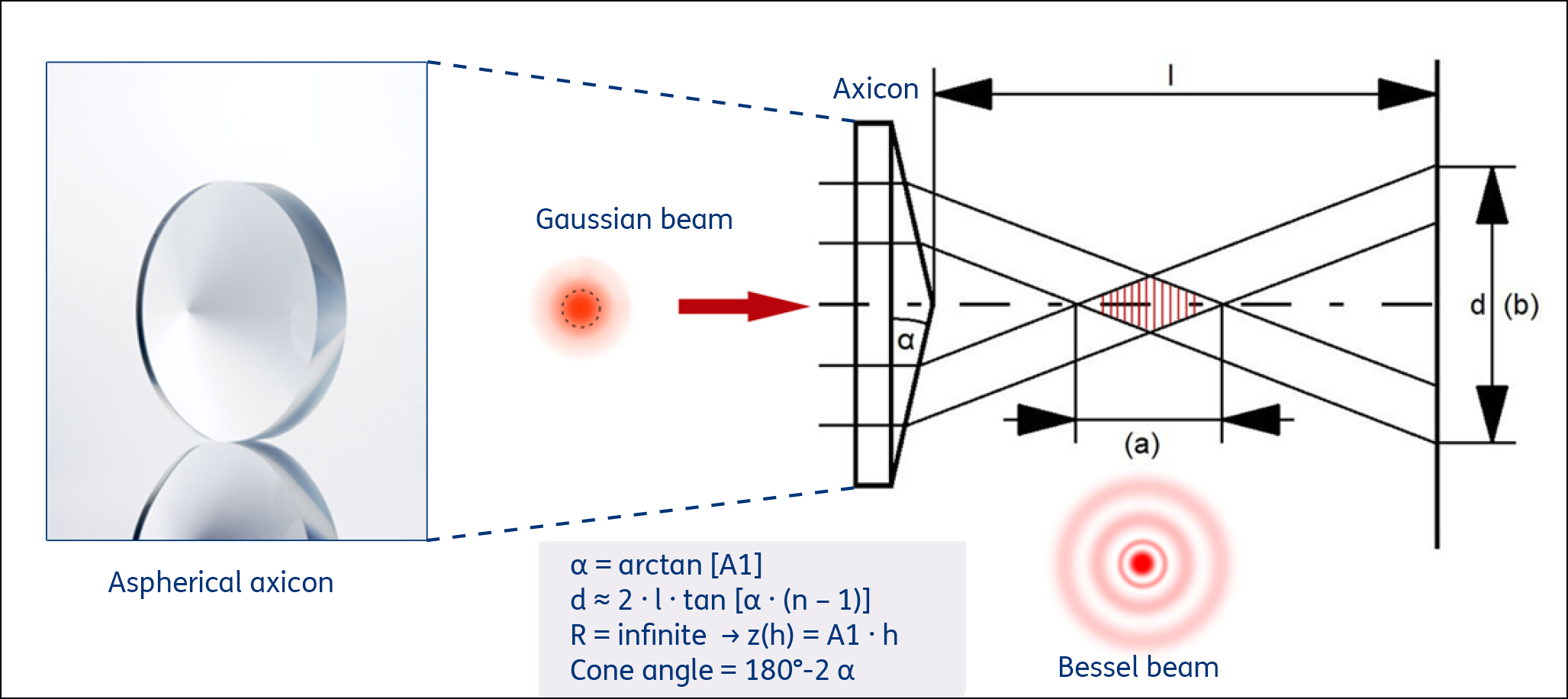 The Axicon is primarily used in the field of beam shaping and in various laser applications. A particular use is also the generation of non-diffractive Bessel-like beams. An area with almost constant intensity distribution, the length of which is defined by the angle and diameter of the axicon, is of interest here (see Fig. 1). Bessel beams are non-diffractive and ideal for applications in medicine, research, in measuring technology and for adjustments. Specifically, they find use e.g. in optical tweezers and in light sheet fluorescence microscopy.
In combination with other axicons or lenses, various beam profiles can be generated, such as collimated ring beams and variable ring-shaped focal points.
The optical effect in combination with a|BeamExpander, a lens or a second axicon is shown below.
| | | |
| --- | --- | --- |
| 1. The illumination of the axicon is optimized by combining it with a Beam Expander. This makes it possible to vary the length of the generated Bessel beam. | 2. The diameter of the generated ring focus is defined by the focal length of the lens used. The generation of ring-shaped foci is used in material processing and in eye surgery, for example. | 3. A collimated ring-shaped beam is generated by combining two axicons. The diameter of the beam changes with the distance between both elements. |
| | | |
| --- | --- | --- |
| 4. This setup enables the focal width of an asphere to be reduced, whereby focusing below the diffraction limit is possible. This is made possible by the ring-shaped illumination of the asphere. | 5. The setup shown is suitable to improve the focus quality of a spherical lens. Through what is known as zonal decompensation, the ring-shaped illumination of individual zones of the lens, effects of spherical aberration are eliminated and focusing is thus improved. | 6. This setup is used to generate variable ring foci. By moving the second axicon, the diameter of the ring focus can be adjusted. |
Further fields of application open up by adding a third optical element, here a second axicon or a lens. You can find some examples in the following graphic.
With the aid of specially developed mounts, our axicons can be oriented precisely to facilitate adjustment and achieve optimal imaging results. What's more, mounted axicons, like all mounted lenses from asphericon, can easily be screwed to other elements using a metric fine thread. Learn more about the benefits of asphericons mounted lenses.
asphericon Custom Axicon

Based on your individual specifications, our optical designers develop the right axicon in terms of diameter, center thickness, angle and surface precision. Thanks to the latest production and measuring technology, a high level of precision is guaranteed.

Feel free to contact our experts for professional advice.

a|Axicon

Do you require axicons with outstanding precision dimensions and directly from stock?
Visit our Webshop and order conveniently online. Here you can find a wide range of precision-polished axicons in the diameters 25.4 mm and 50.8 mm. Order before 12 pm (CET) and your axicon will be shipped within 24 hours.

Production capabilities






Acylinders
Acylinders, also known as aspherical cylinders, denotes cylindrical-surface-shaped lenses, the cross-section of which differs from the circular shape. In practice, plano-concave and plano-convex cylinders are used as well as those with a spherical or aspherical reverse. In contrast to a lens, an aspheric cylindrical lens does not concentrate incident light into one focal point, but along a focal line without the influence of spherical aberrations.
Precision at the highest level – acylinders by asphericon
asphericon manufactures acylinders using specially developed CNC grinding and polishing techniques with a surface form deviation (RMSi) of ≤ 0.5 μm. Together with our customers, we design and manufacture the appropriate acylindrical for their applications from a wide range of optical glasses, from prototypes to series production. The asphericon StockOptics acylinder product range offers an alternative to Custom projects. Here, you get a range of acylinders from 10 mm x 10 mm to 50 mm x 50 mm directly from stock.
Operation and fields of application of acylinders
Acylinders are used, for example, in lighting technology, such as the anamorphic technique. Acylinder are also used in measuring equipment, in spectroscopy, in laser scanners and in the creation of marking patterns in medical technology. A setup with two crossed acylinders, for example, allowes the compensation of the asymmetrical outputs from laser diodes, producing a circular beam.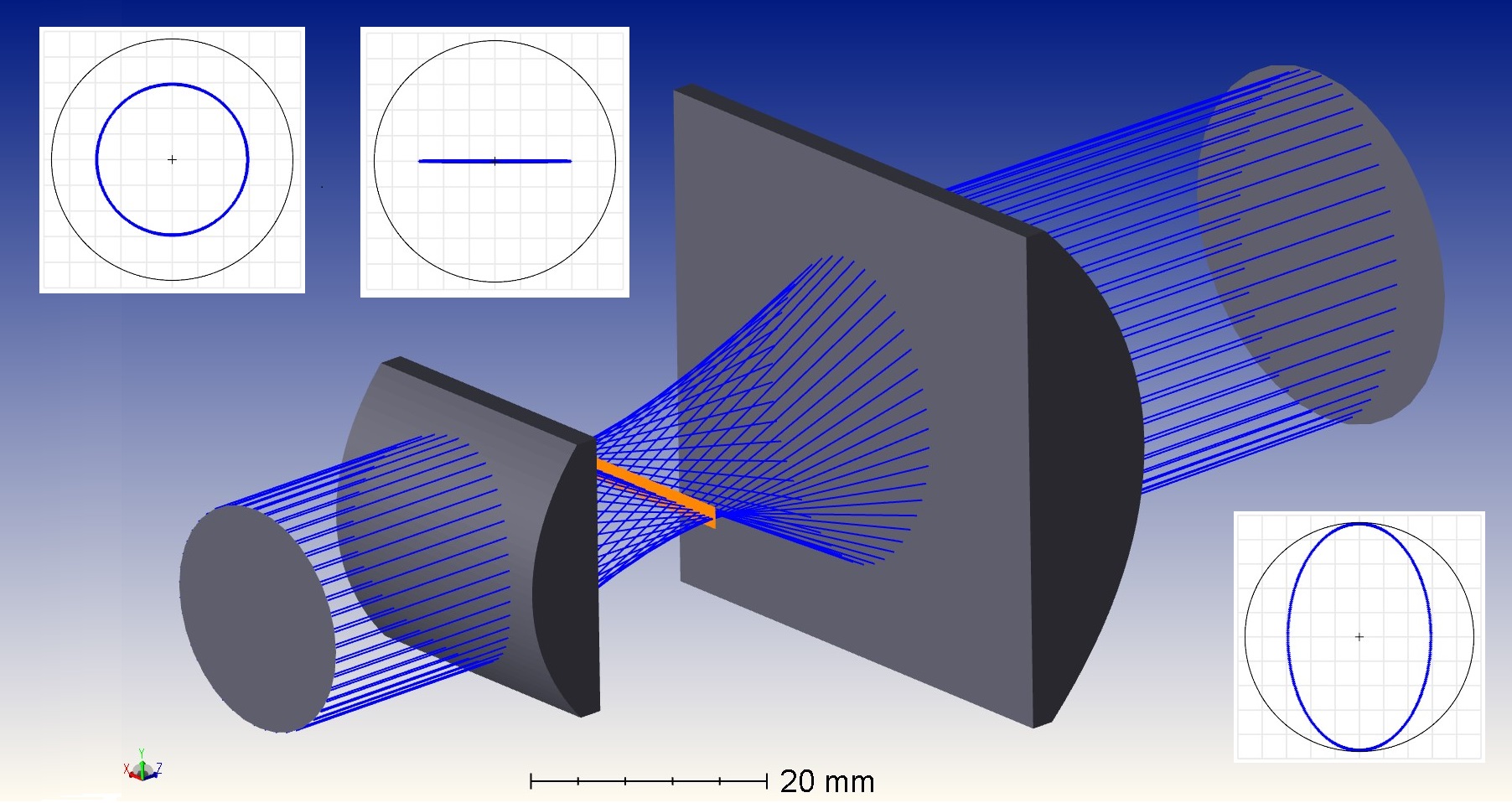 The following diagram (Fig.1) illustrates the functionality of cylindrical lenses. It shows the creation of a line focus using aspheric cylindrical lenses. By combining with a second acylinder an elliptical beam is generated. The stretching ratio is determined by the focal lengths of the two elements. The system shown represents a cylinder telescope.
Do you require acylinders with outstanding precision dimensions within a short time?
Our webshop offers an exclusive selection of acylinders directly from stock. Order conveniently online and benefit from delivery within one day (within Germany, Europe usually 2 – 3 days) for orders by 12pm CET.
asphericon Custom Acylinders

asphericon manufactures acylinders based on your specifications and requirements. Our experienced team works together with you to develop customised cylindrical lenses in the following shapes: plano-convex, plano-concave, biconvex and biconcave. The outer shape can be freely defined.
Our experienced experts are always ready and willing to provide support for more detailed specifications.

a|Acylinders

Visit our Webshop where you can conveniently order aspherical cylindrical lenses online. Here you can find an attractive selection of precision-polished a|Acylinders in various standard sizes. Benefit from high-precision acylinders (RMSi ≤ 0.5 µm) and a short delivery time.

Production capabilities



ParabolicMirror