公司简介:

SPECTROSCOPIC ESSENTIALS FOR YOUR SPECTROSCOPY SOLUTIONS
Photonics Technologies has been working closely with laser and optical scientists for more than a decade and has gained a wealth of practical experience and knowledge of the requirements of the laser physicist.
产品简介:
Opto-Mechanics









Fine Thread Adjusters
The fine thread adjusters have a thread pitch of 0.15 mm, corresponding to an international standard of 170 TPI compared to 80TPI or at best 100 TPI from other manufacturers.






Electro-Optical Modulation
1、E/O Phase Modulator (EOM)



For more information please search by Frequency or

Wavelength:
2、Electro-Optical Amplifier
Broadband, high frequency amplifier primarily designed for use with electro-optic modulators where the available modulation signal is below 1V pk to pk.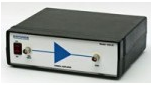 Broadband, high frequency
electro-optical amplifier
(EOA-01)

Gas Cells