公司简介
Established in 1976, Ophir Optronics is a global leader in precision infrared optics, photonics instrumentation and 3D non-contact measurement equipment. The company develops, manufactures and markets top quality products that are based on the most advanced technologies and are renowned for their quality and reliability.
产品列表
PHOTONICS GROUP
Laser Power and Energy Meters
Measure any laser Ophir Photonics has a complete range of laser power meter and laser energy meter products measuring nW to KW and pJ to hundreds of joules.

Highly accurate calibrated, linear and repeatable, our laser measurement systems are the most reliable on the market to measure laser power and laser energy.

Full support with world-wide distribution coverage, you get laser power meter support for the life of your laser measurement instrument, wherever you are located.
Ophir Sensor Finder
Sensor Finder and Laser Fluence Calculator
Learn more about choosing Power and Energy Meters: From Sensors to Displays
Beam Profilers
Led-FluxGage
The FluxGage is a compact measuring system for LED Luminaires. The FluxGage measures total flux, color (CCT, CRI, Duv, chromaticity) and flicker. FluxGage provides the same functionality as a 3 meter integrating sphere.
| | |
| --- | --- |
| Maximal Luminaire Size [mm] | 610X450 |
| Flux Range [Lm] | 1,000-40,000 |
| Spectrometer Range [nm] | 400-800 |
| Measurement Time [s] | 2 |
| Size [mm] | 775x564x228 |
————————————————————————————————————————————————————
INFRARED OPTICS
Infrared Optics Applications

Ophir's lenses are integrated into the most sophisticated thermal imaging and radiometric products. The high quality of the optical elements and lens assemblies supplied by Ophir is essential to manufacture and deliver high quality systems. Ophir has many years of experience with defense standards and the ability to test our products to these standards. Ophir's lenses are widely used around the world for Infrared observation systems, airborne systems, UAV applications, DVE systems and Targeting Systems such as TWS and Fire Control Systems. Ophir's special development and patents for manufacturing aspheric element by Diamond Turning systems enables Ophir to manufacture more efficient lenses with fewer elements. This results in better performing and lighter weight lenses, more suitable for UAV and handheld applications.

With our in-house, full optical capabilities, we are well positioned to serve the commercial FLIR and Thermography (radiometric) lens markets. We offer our customers Optical and Mechanical Design, Elements Polishing, Diamond
Turning, Coating and final Assembly for optical turnkey solutions.
Ophir's patents for manufacturing elements with two aspheric surfaces (by Diamond Turning technology) is essential in supplying low-cost, high-quality, and low-weight lenses needed for Fire Fighter's and thermography IR handheld cameras. Our lenses are essential components for infrared camera manufacturers for their rescue systems, maintenance systems, EVS and automotive night vision systems.

Ophir provides a wide range of Infrared optical solutions for a variety of Homeland Security Systems. For Border Patrol and Surveillance applications, Ophir offers selection an off the shelf selection of lenses including it's widely used 60/180mm, F/1.4 Dual Field Of View (DFOV) lens, 140mm and 210mm F/1.4 lens and it's ultra long range DFOV 114/342 mm F/1.35/1.58 for 8-12 micron uncooled cameras. For cooled cameras, Ophir offers a variety of lenses and extenders including 25/80/320mm F/4, 3 Field Of View (3FOV) lens with optional x1.4 extender, 22-275mm F/5.5 Zoom lenses with optional X2 and X2.5 multiplier that extend the focal distances to the range of 55-687mm. For Law Enforcement, Ophir offers a variety of light weight lenses fitted for handheld applications, or UAV's optical payload. For Site Security applications Ophir offers a wide range of manual, motorized, and athermal lenses. All Ophir's lenses can be ordered with Hard Carbon coating for outdoor and marine applications.
Infrared Components
Since 1976 Ophir Optronics is an international market leader that design and manufacture Infrared optics elements and lenses. Possessing optical, mechanical and electronic design capabilities and specializing in infrared manufacturing techniques including Polishing, Diamond Turning, Coating, and Assembling, Ophir offer it's customers high performance unique products tailor made to the application needs at best competitive prices.
Ophir's R&D department focuses on design and development of lens sub-assemblies, CO2 optics products and improving manufacturing techniques. The goal is to develop lens assemblies with very high optical & mechanical performance, while aiming to achieve the highest manufacturing efficiencies. In close association with our customers, we strive to provide unique solutions, perfectly tailored to their specific requirements.

The conventional polishing department at Ophir produces spherical elements, windows, domes, prisms and mirrors from all known materials for the IR spectrum and has additional capabilities in the visible range and uv spectrum. This department is unique in its abilities to produce a wide range of high precision elements in prototype and one-off production, as well as high precision elements in mass production.

Ophir is recognized as a world leader in the development, production and application of advanced optical coatings for a broad range of substrates.

The diamond turning department was established in 1981 to provide in- house diamond turning capabilities. The department contains the most advanced diamond fly cutting and turning machines. These, together with the department's know-how enable Ophir to achieve the highest levels of accuracy and surface quality on a wide range of substrates including Ge, Si, ZnSe, ZnS, ZnS Multispectral , CaF2, GaAs, AMTIR, PMMA, Al and Cu.

Ophir manufactures complete lens assemblies designed in house, to satisfy stringent optical, mechanical and environmental performance specifications using a minimum number of optical elements.

Ophir SupIR™ lens sub-assemblies rely on the unique combination of precision optical components, (aspheric, diffractive and spherical lenses), superior coatings and its experienced optical and mechanical designers. This expertise is successfully translated into high performance products at the most competitive prices.


12% of Ophir's workforce is involved in our extensive Quality Assurance process. ISO 9001:2008 certified, Ophir has over 20 years of experience working according to military standards across all levels of performance specification. Our QC department uses an effective combination of the world's most advanced testing and measurement equipment as well as unique techniques developed at Ophir.
Catalog Infrared Lenses
Lenses for uncooled cameras 8-12 microns

With the largest offering of lenses for uncooled infrared camera, Ophir Optics offers customers the best solutions for defense, commercial, and homeland security applications. Through experience working with the majority of FPA manufacturers and infrared systems integrators worldwide, Ophir Optics offers off-the-shelf and custom designed and manufactured lenses to suit customer needs. Ophir Optics lenses for LWIR FPA's are available in focal lengths ranging from 4.0mm to 342mm including zoom lenses, multiple field of view, fixed focal length lenses, manual focus lenses, and motorized focus lenses. A wide range of f/#'s is offered to optimize lens size, weight and performance. Comprehensive in-house design and manufacturing capabilities enable Ophir Optics to customize existing off-the-shelf lenses or design a custom lens to meet customers' exact needs.
Radiometric lens for uncooled cameras

For over a decade, Ophir Optics has specialized in designing and manufacturing lenses for Radiometric and Thermograph systems. The majority of Ophir Optics lenses are designed for Long Wave Infrared (LWIR), 8-12 microns. Their performance can be extended over both the MWIR and LWIR bands, from 3-12 microns using an unique, innovative anti-reflection coating developed by Ophir Optics. A variety of focal lengths and f/#'s are offered by Ophir Optics to serve a wide range of applications, image quality requirements, lens size and weight, and cost. Ophir Optics offers fixed focal length and manual focus lenses utilizing a unique passive athermalization solution that maintains focus over wide range of environmental conditions and temperature ranges.
Athermalized lens for uncooled cameras

In many FLIR applications the need to maintain focus over wide change of the environmental temperature is essential to the system performance and usability. Ophir specialized in design and manufacture of passively athermalized lenses. The optic and the mechanical design of the lenses will maintain the focus position passively, without power, during changes in the environment temperature between -40 degrees to +80 degrees Celsius.


For over 30 years, Ophir Optics has been a world-leading designer and manufacturer of complex lens assemblies through optical components for cooled MWIR (3-5 microns) cameras. Ophir Optics leverages vast experience to offer wide variety of lens systems available off-the-shelf: motorized zoom lenses, multiple field of view lenses (dual and triple) and fixed focal length lenses. Focal length multipliers are available for several of the zoom lenses and triple field of view lenses to extend the lens focal length while maintaining the original f/#. For increased flexibility, Ophir Optics offers lenses optimized for cooled FPA cold shield distances of 19.6mm and 25.4mm (cold stop to FPA distance).

Ophir manufactures complete lens assemblies designed to satisfy stringent optical, mechanical and environmental performance specifications. Ophir optical design team possesses wide knowledge in designing lenses for MWIR and LWIR cameras and lenses for Thermograph applications. Ophir Optronics mechanical engineering team is a world leader in designing the lens mechanics, specializing in manual and motorized focus mechanism, passively athermal lens design, and supporting low weight, rugged, or high pressure sealing requirements. Ophir Dual and Triple FOV, and Zoom lenses are also equipped with in house designed electronic controller to maintain FOV and focus positions.
————————————————————————————————————————————————————

LASER OPTICS
CO2 Laser Lenses
| | | | |
| --- | --- | --- | --- |
| AR COATING | Standard | LA | ULA |
| Brand Name | Duralens™ | Black Magic™ | Clear Magic™ |
| Transmission | >99.3% | >99.35% | >99.37% |
| Absorption | <0.20% | <0.15% | <0.13% |
| Reflection | <0.20% | <0.25% | <0.25% |
CO2 Laser Beam Delivery Mirrors
Fiber Laser Optics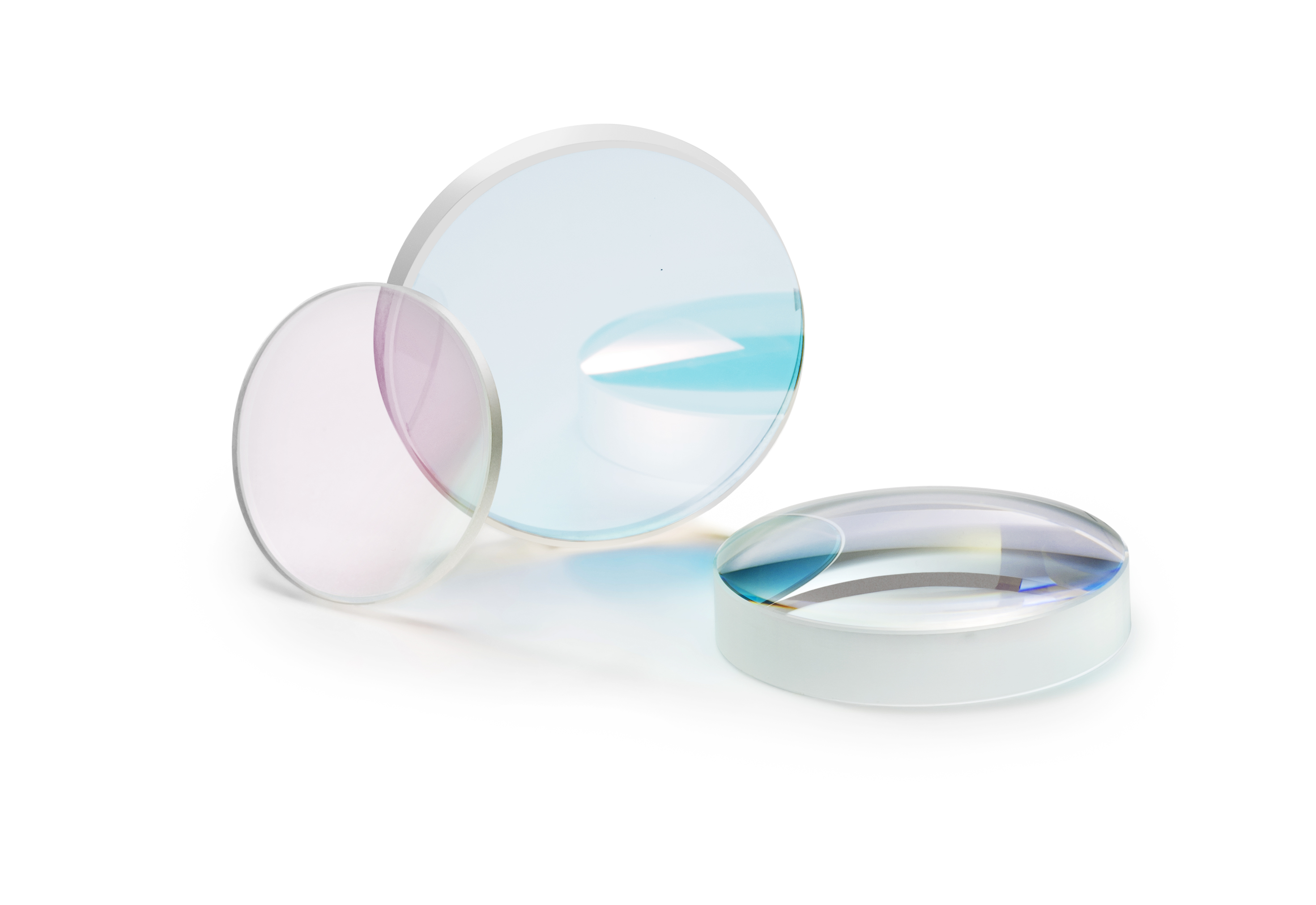 Fiber Lens
Optics Type

Ophir PN

Coating

Dia.
Inch

Dia mm

F.L.
Inch
E.T.
mm

Lens

632284-117

AR/AR

1.50

38.1

7.50

7

Lens

631931-117

AR/AR

1.18

30.0

-13.50

5.8

Lens

631932-117

AR/AR

1.18

30.0

3.56

3.1

Lens

631933-117

AR/AR

1.18

30.0

-26.73

5.5

Lens

631934-117

AR/AR

1.18

30.0

3.37

2.9

Lens

632291-117

AR/AR

1.50

38.1

7.09

3

Lens

632292-117

AR/AR

1.50

38.1

8.66

3.3

Lens

632294-117

AR/AR

2.00

50.8




11.6

Lens

632331-117

AR/AR

1.18

30.0

7.87

3.7

Lens

632754-117

AR/AR

1.00

25.4

-8.00

6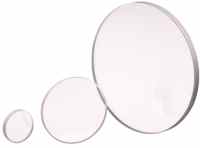 Protective Window
Optics Type

Ophir PN

Coating

Dia.
Inch

Dia mm

E.T.
mm

Protective Window

632445-117

AR/AR

1.00

25.4

3

Protective Window

632498-117

AR/AR

1.97

50.0

2

Protective Window

632252-117

AR/AR

0.88

22.35

4

Protective Window

632251-117

AR/AR

1.34

34.0

5

Protective Window

632336-117

AR/AR

1.00

25.4

4

Protective Window

632713-117

AR/AR

2.17

55.0

1.5

Protective Window

632755-117

AR/AR

1.26

32.0

6.35

Protective Window

632851-117

AR/AR

1.42

36.0

5

Protective Window

632757-117

AR/AR

0.47

12.0

2