公司简介
位于美国新泽西的HAAS公司,成立于1992年,做为一个世界上最大的提供激光束传输类器件与装置的公司,以其产品的创新性.优质.可靠而获得业界和客户认可。 HAAS拥有经验丰富的工程设计团队,高效的加工生产组织以及最先进尖端的加工中心,为工业客户提供最高标准的易于集成且模块化的激光传输类产品。并有为使用广泛的二氧化碳激光器光纤激光器设计的标准产品,还可根据客户的要求设计定制产品。 产品包括:多种精密激光雕刻切割头, 配合Synrad.Coherent.SPI.IPG激光器使用的标准产品。
产品列表
Laser Beam Delivery Components



Fiber-optic laser beam delivery is commonly used in industrial laser systems. Applications for fiber lasers include material processing, telecommunications, spectroscopy, and medicine.

|

0 - 500

|

500-10kW

|

1kW-10kW

|

High precision components for 19mm laser beam diameters.


| 19mm Laser Heads | 19mm Beam Directing & Positioning | 19mm Beam Enhancement | 19mm Beam Position Viewing | 19mm Laser Beam Adapters, Clamps, Mounts, Beam Tubes |

High precision components for 25mm laser beam diameters.


| 25mm Laser Heads | 25mm Beam Directing & Positioning | 25mm Beam Enhancement | 25mm Beam Position Viewing | 25mm Laser Beam Adapters, Clamps, Mounts, Beam Tubes |




High precision components for 38mm laser beam diameters.


| 38mm Laser Heads | 38mm Beam Directing & Positioning | 38mm Beam Enhancement | 38mm Beam Position Viewing | 38mm Laser Beam Adapters, Clamps, Mounts, Beam Tubes |

High precision components for 50mm laser beam diameters.


| 50mm Laser Heads | 50mm Beam Directing & Positioning | 50mm Beam Enhancement | 50mm Beam Position Viewing | 50mm Laser Beam Adapters, Clamps, Mounts, Beam Tubes |



| | | |
| --- | --- | --- |
| | | |
Custom Laser Beam Delivery Systems
Custom Machining
Engineering & Design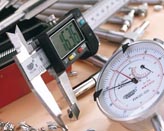 Our in-house engineering and design staff consists of electrical, mechanical, and optical engineers. Haas LTI is well versed in engineering world-class custom optical, electrical and mechanical assemblies. Our engineering team's expertise in precision machining and fabricating of laser beam delivery components ensures a successful project from concept to final design.
Fabrication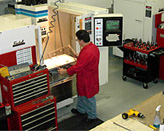 From machined components to welded structures and electronic assemblies, Haas LTI's Custom Machining Division can fabricate them all.
Custom fabrication experience is drawn from our diverse in-house engineering resources and skilled multi-talented machinists.
Manufacturing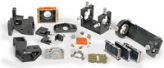 Our manufacturing group of the Custom Machining Division is second to none. We remain on the leading edge of technology by constantly updating and expanding our state-of-the-art facilities. Paperless designs shorten cycle times using customer supplied CAD files.
CAD-CAM programs enable components to be virtually machined and tested in 3D before any components are manufactured. The latest CNC equipment processes the information to produce a high-quality end component the first time. Engineers and machinists work together to assemble and test prototype assemblies for functionality.
Machining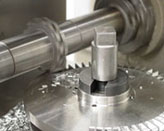 Capabilities include machining of all types of metals and plastics. The latest CNC equipment combined with CAD-CAM technologies are used for machining every part.
Quality inspections are performed by each individual machinist on every part to ensure total part quality.
Assembly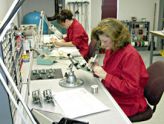 All products are initially assembled by engineers and machinists. After performance and quality evaluation specifications are met, the final documentation is completed and assembly procedures are finalized. Specialized trained personnel then perform all assembly functions under strict procedures and high quality standards.
Quality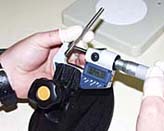 Whether it's production parts or prototypes, the custom machining group at Haas Laser Technologies delivers quality components every time. That's because our group's trained staff and management team are professionals with many years of engineering and machining experience. In addition, the exhaustive and foolproof in-house quality procedures of the custom machining group at Haas Laser Technologies, Inc. ensure the highest quality standards in the business.
Delivery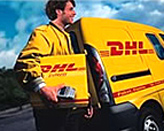 The custom machining group at Haas Laser Technologies specializes in precision, short to medium production runs and prototypes. We handle fast turnarounds because of consistent investments in the latest high tech machines, software and procedures.
Haas LTI knows you rely on your suppliers to meet delivery dates and that you need someone who is flexible and reliable enough to respond.
Service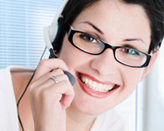 In a highly-competitive world market, customers choose the custom machining group at Haas Laser Technologies with confidence, because of consistent quality and on-time deliveries. Dependable quality, being readily adaptable to cusomer requirements, leading edge technical capabilities, extensive management tools, highly skilled people and on-time deliveries all add up to world class service we give with every product.


Laser Delivery Optics
| | | |
| --- | --- | --- |
| For CO2 laser applications. | For Nd YAG and Fiber Laser applications. | For micromachining, fine cutting, and fine welding applications. |
| For micromachining, fine cutting, and fine welding applications. | | |
Laser Beam Diagnostics
Merged Technology