公司简介
德国D-G公司是一家致力于激光系统和模块的供应商,产品主要有高功率光束转储设备,高功率普克尔斯盒,紧凑型Q开关激光器,高功率基模谐振器,薄片激光模块以及薄片激光器及激光系统定制。
产品列表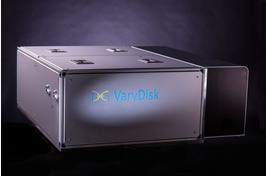 VaryDisk Platform
The VaryDisk platform provides the basis for four VaryDisk base versions, each being a fully functional laser system for laboratory investigations and/or industrial use. The output specifications of each VaryDisk laser system can be chosen according to our customers need by either choice of one out of four base versions (FEMTO, PICO, NANO, ENERGY), combined with various available options, or by special request. Depending on the individual choice of parameters, the VaryDisk laser system qualifies as industrial, scientific or prototype laser system.
Read more
GigaPulse Linear Amplifier
The D+G GigaPulse is the first commercially available device achieving kW average power as well as mJ pulse energy in the short and ultrashort pulse time regime.
The D+G VaryDisk is build in a cascading laser system starting from a seed laser amplified by a VaryDisk to a power and energy level which suits the amplification properties of the GigaPulse system - typically. Other configurations are possible as well.
We engineered the GigaPulse for the following pulse energy and average power regimes:
Disk Laser Systems
VaryDisk FEMTO
The VaryDisk FEMTO is a fully functional laser system especially suited for laboratory investigations. The VaryDisk FEMTO is equiped with a femtosecond seed source, allowing ultrashort pulse durations. Additional specifications can be chosen according to our customers need by either combination of one of our four VaryDisk base versions, or with various available options listed below. Especially usefull for the VaryDisk FEMTO system is the variability option, alowing a motorized adjustment of the pulse duration. Furthermore, additional seed lasers can be used for an even larger flexibility with respect to the available pulse durations.Read more
VaryDisk ENERGY
The VaryDisk energy is a fully functional laser system with chirped pulse amplification (CPA) for laboratory investigations and/or industrial use. The output specifications of the VaryDisk energy laser can be chosen according to our customers need by either combination of one of our four VaryDisk base versions, or with various available options listed below. Depending on the individual choice of parameters, the VaryDisk energy laser system qualifies as industrial / scientific or prototype laser system. Read more
Customized Laser Systems
Special purpose laser systems based on the thin disk laser technology with specifications, which are not readily available at the market, can be built according to customer's demand: We help you in finding the right laser design for your application with our thin disk pump modules and thin disks. Such might be for example a simple CW fundamental mode or multimode laser, a pulsed laser oscillator, a Q-Switch laser, a cavity dumped laser, or a regenerative amplifier (see also our VaryDisk regenerative amplifier).Read more
The VaryDisk PICO is a fully functional laser system for laboratory investigations and/or industrial use. The pulse characteristics of the VaryDisk PICO is mainly determined by the seed laser of this system. Our standard configurations includes a 6 ps seed, however other pulse durations are possible, depending on the need of our customer. The choice of pulse duration, actually determines the maximum available energy with this laser system. Depending on the individual choice of parameters, the VaryDisk laser system qualifies as industrial / scientific or prototype laser system. Compared to our other VaryDisk systems, the VaryDisk PICO is a robust system with minor complexity.Read more
VaryDisk NANO
The VaryDisk nano is a fully functional laser system for laboratory investigations and/or industrial use. The output specifications of the VaryDisk nano laser can be chosen according to our customers need by either combination of one of our four VaryDisk base versions, or with various available options listed below. Depending on the individual choice of parameters, the VaryDisk laser system qualifies as industrial / scientific or prototype laser system. Read more
Disk Laser Components
TDM 1.0 Lab
Thin disk pump optics for guiding up to 1 kW (optionally even 2 kW) of pump power multiple times over a laser active thin disk medium, such as provided by our TD12 disks. Due to its easy integration in an laboratory style optical laser setup and due to its many degrees of freedom for adjustment, the TDM 1.0 (2.0) is recommended for a laboratory environment.Read more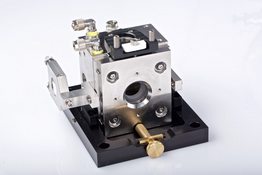 TDM 30 High Power
Pump power up to 30 kW (so far tested with 13 kW, due to non-availability of pump diodes with 30 kW of pump power; in multimode operation an output power of 7.8 kW was demonstrated)Read more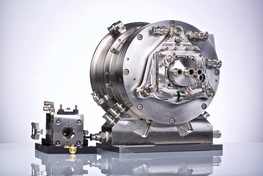 Thin Disk Laser Gain Media
Mounting of thin laser crystals, thereby ensuring effective and homogenous cooling, is the key technology for disk lasers. For various laboratory applications as well as for the series production of our OEM customers, we offer pre-mounted disk laser crystals tailored to and tested under the customer's specifications and/or operating conditions.Read more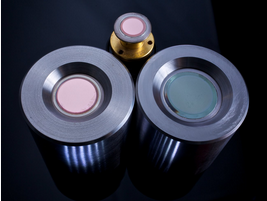 TDM 0.05 Compact
Pump power up to 50 W; 12, 20, or 28 passes of pump radiation; Compact Low cost; Water or Peltier cooledRead more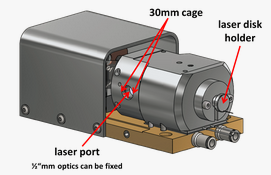 Thin disk pump optics for guiding up to 10 kW of pump power multiple times over a laser active thin disk medium, such as provided by our TD20 or TD25 disks.Read more