公司简介
美国Brimrose公司是一家极富创新性的全球关注的高科技公司,主要致力于声光技术和先进材料的研发。声光可调谐滤波器近红外(AOTF-NIR)技术是Brimrose的核心技术,具有扫描速度快而且不受外界环境如温度、湿度、灰尘等影响,非常适合在线质量控制和现场品质检测。
产品列表
Free Space Acousto-Optic Tunable Filters




The Brimrose Acousto-Optic Tunable Filter (AOTF) is a solid state acousto-optic device with no moving parts. It functions as a tunable transmissive filter. It is able to precisely and rapidly adjust the wavelength, and intensity of the diffracted/filtered light by varying the RF power.


Brimrose offers both standard and custom AOTFs. AOTFs are used widely in numerous optical systems and applications, especially in industrial or process control near-infrared (NIR) spectroscopy applications.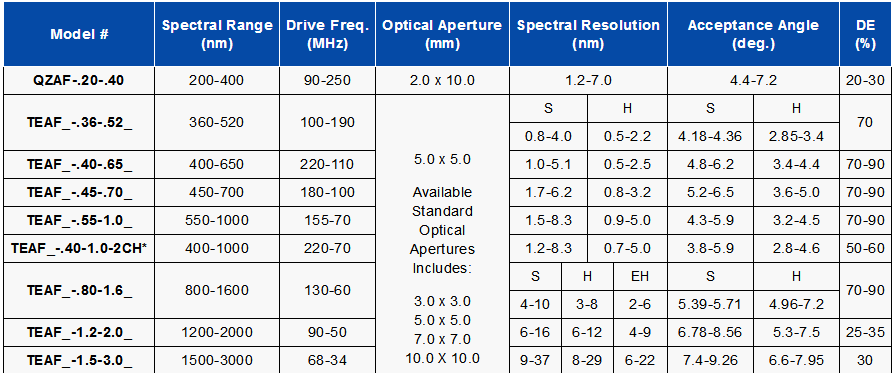 * Available in low or standard resolution.

Brimrose's AOTF technology uses a Tellurium Dioxide (TeO2) crystal. The AOTF operates in the NIR region in a so-called non-collinear configuration. The acoustic and optical waves propagate at quite different angles through the crystal.

Material: TE – Tellerium Dioxide (350-5000 nm) QZ – Quartz (SiO2)

Options:

S – Standard Resolution

H – High Resolution

EH – Extra high Resolution

UH – Ultra high Resolution
Free Space Acousto-Optic Modulators
CUSTOM BUILT (OUR SPECIALTY)

The Brimrose free space Acousto-Optic Modulator (AOM) is used to control laser beam intensity, frequency modulation, frequency shifting, control pulses, switching time, and more. The AOMs are offered with conduction and water cooled enclosures. TE cooled enclosures are available upon request.

Brimrose offers AOMs in the wavelength range from the ultraviolet to LWIR regions for low and high optical power applications. Brimrose AOMs cover the frequency ranges from just a few MHz up to 3.5 GHz.

A large variety of supporting RF electronics in lab enclosures or OEM versions are offered by Brimrose. These include fixed or variable frequency RF Drivers as well as PC-controlled high performance RF Frequency Synthesizers. The RF Drivers are provided with either analog amplitude modulation, TTL, or a combination of both, depending upon application requirements.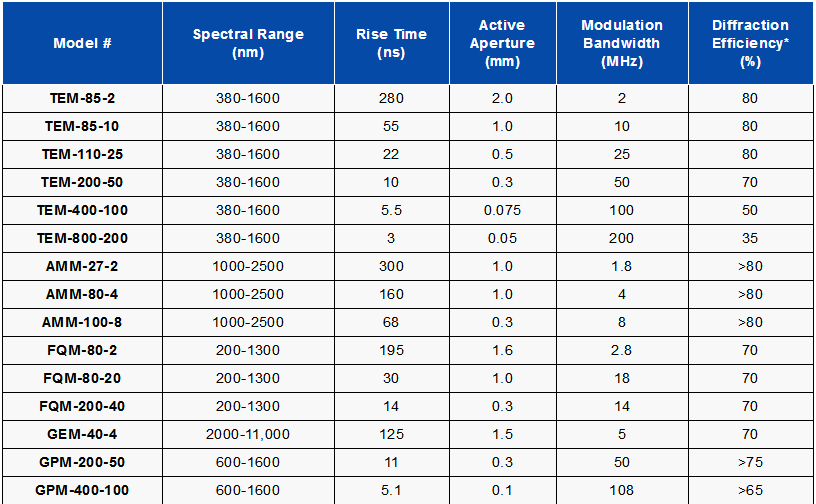 * Diffraction efficiency may vary depending on the wavelength of operation.
The Free Space AOM models shown above represent some examples of our fabrication capabilities. In addition, other wavelengths, frequencies or configurations are available.
Free Space Acousto-Optic Frequency Shifters






The Brimrose Free Space Acousto-Optic Frequency Shifter (AOFS) with RF driver is used to modify the frequency of the optical beam. Due to a Doppler shift, the frequency of the diffracted first order optical beam in the AO modulator or AO frequency shifter is shifted in frequency (wavelength) by the acoustic carrier frequency (wavelength).


If the incident acoustic wave is introduced in the direction of the incident optical wave, the laser frequency shifts towards the higher side. If the incident acoustic wave is introduced in the opposite direction of the incident optical wave, the laser shifts toward the lower frequency side.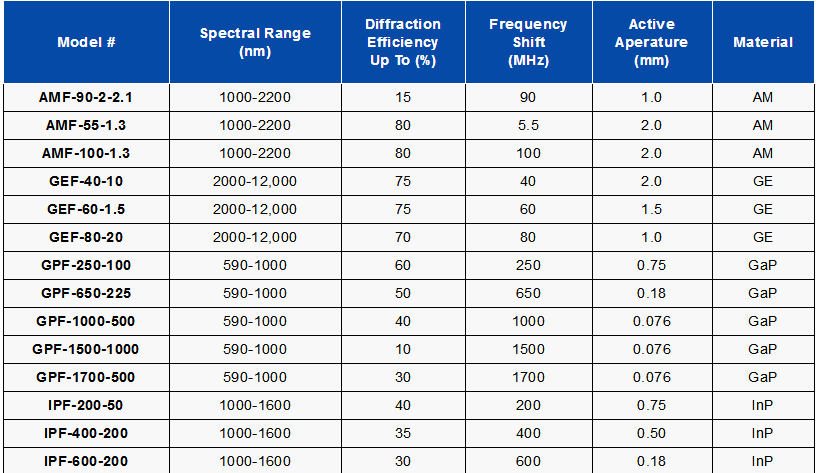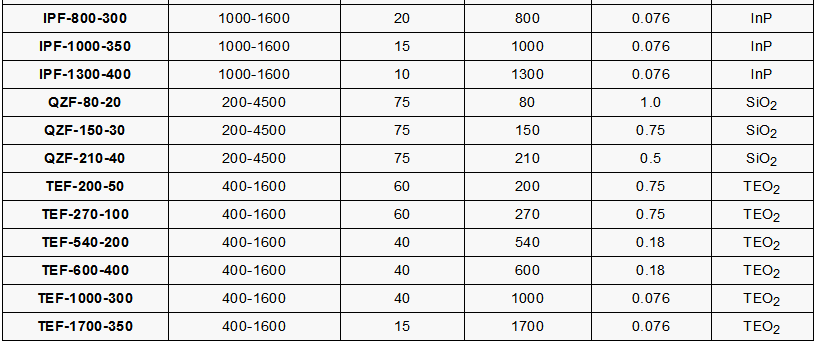 Free Space Acousto-Optic Q-Switches
Brimrose offers the most complete line of Acousto-Optic Q-switching systems for industrial and laboratory applications. The Brimrose free space Q-switches are designed for the highest conversion efficiency of RF energy into acoustic energy by attaching the transducer to the crystal with an advanced vacuum metallized process.

Q-switches are special modulators designed for use inside laser cavities. They are fabricated from high optical quality Fused Quartz, Flint Glass, and Tellurium Dioxide, or other acousto-optic materials with Brewster cut optical faces or durable hard oxide AR coatings for high optical power applications.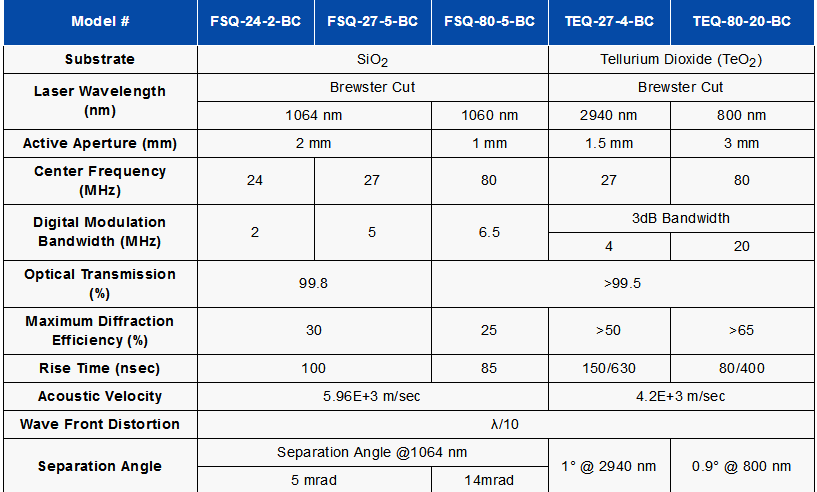 Other materials and models are available.
Acousto-Optic Deflectors









Brimrose Acousto-Optic Deflectors (AODs) combined with RF drivers are specially designed for high-speed scanning applications such as laser recording, optical scanning, signal processing, etc.


The AOD changes the diffraction angle of an input laser beam and its angular position is linearly proportional to the RF frequency, so that the higher the frequency, the larger the diffracted angle.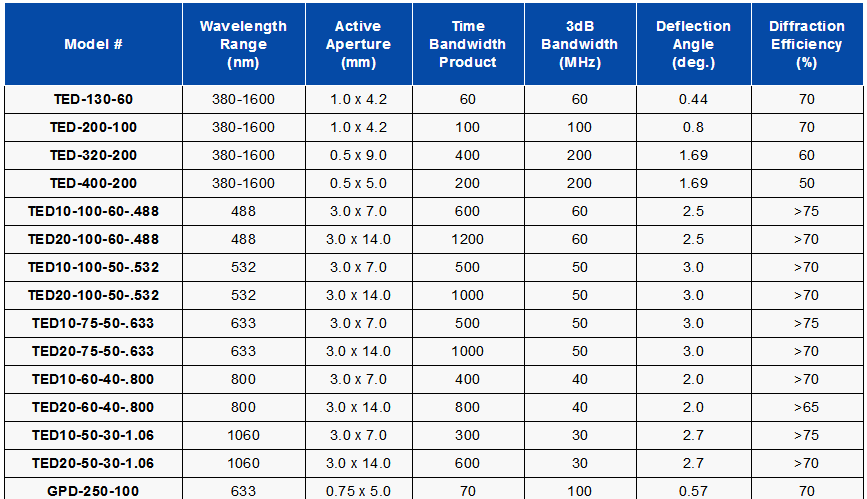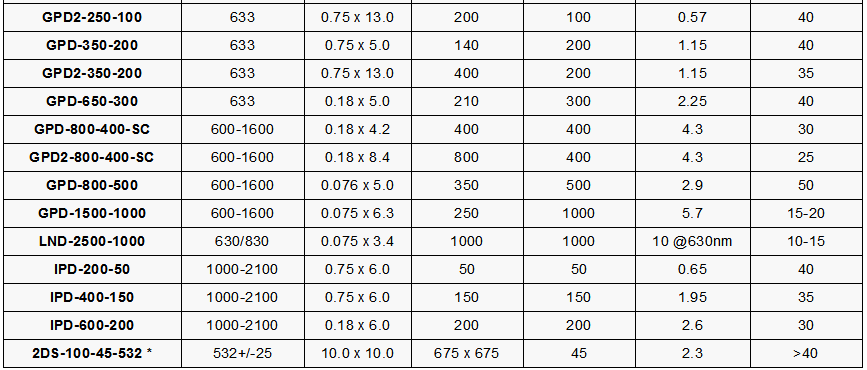 Acousto-Optic Mode Lockers






The Brimrose Free Space Acousto-Optic (AO) Standing Wave Mode Lockers, with corresponding RF Variable Frequency drivers, are designed so the frequency matches the customer's laser resonant cavity longitudinal mode frequencies. It is necessary to adjust the resonant laser cavity mode spacing frequency to be equal to twice the original acoustic wave frequency to achieve mode locking.

The mode-locking technique is actually a phase locking process, connecting the various longitudinal modes by fixing the relative phase differences among them.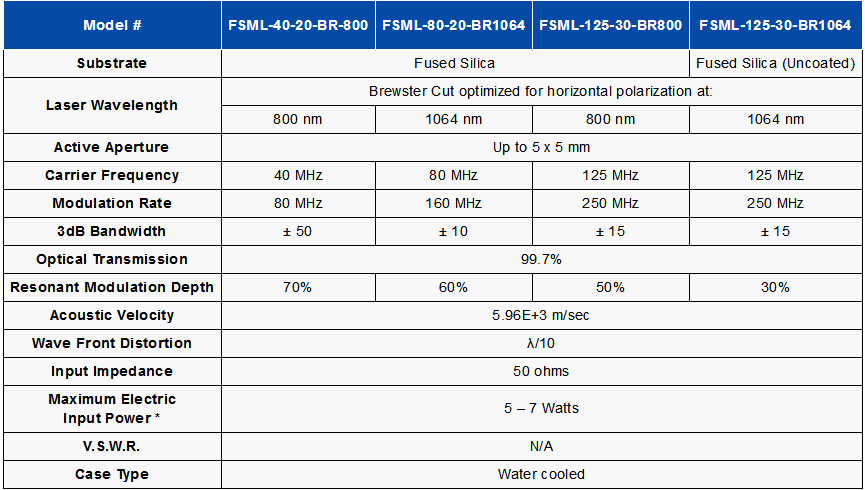 * The exact amount of RF power will be defined during final testing of fabricated device.
Wavelength range is from 600 to 1550 nm or Broadband AR Coating and RF Frequency Ranges are available upon request.
Acousto-Optic Cavity Dumpers/Pulse Pickers
The Brimrose Free Space Cavity Dumper is typically used in a mode-locked laser cavity to separate a single optical pulse from the circulating pulsed energy. As a result, nearly all the laser energy is dumped out of the resonant cavity in the form of a single optical pulse. A cavity dumper offers high peak power and higher repetition frequencies.

The Brimrose high-speed Pulse Picker is used typically in high-speed optical pulse picking external to a laser cavity and is designed to extract single pulses from a fast train of laser pulses up to 100 MHz – few GHz pulse repetition rate, and re-direct the pulse into a different optical path. A cavity-dumped laser, a pulse picker is often called a cavity dumper, extracts the circulating pulse from the cavity in only every Nth round trip. The Pulse Picker is in most cases either an electro-optic modulator or an AO Modulator, combined with a suitable fast electronic driver.
CAVITY DUMPER SPECIFICATIONS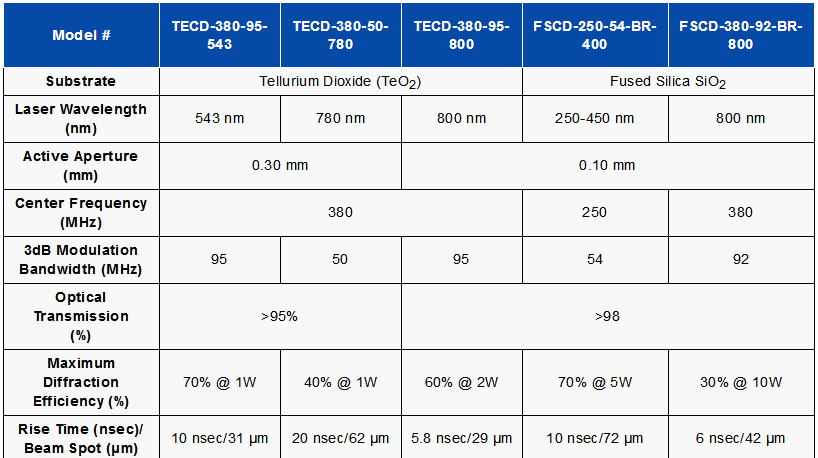 PULSE PICKER SPECIFICATIONS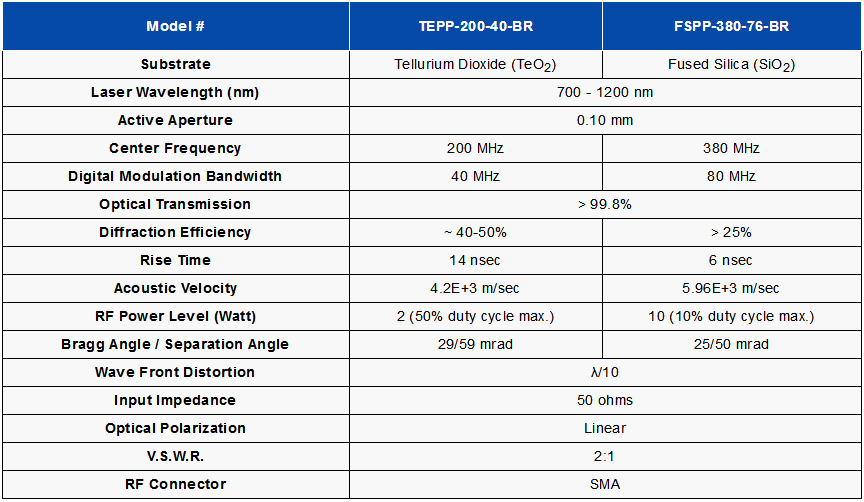 AOTF-NIR Spectrometers
AOTF-NIR SPECTROMETERS
| | | |
| --- | --- | --- |
| HAND-HELD / MULTI-PURPOSE | FREE SPACE / FIBER OPTIC | MULTIPLEXER |
CUSTOM AOTF-NIR SOLUTIONS & SERVICES
SMALLER, LIGHTER




BUILT FOR PURPOSE




GAS ANALYZER

FLEXIBLE, ADAPTIVE

CUSTOM BUILT
ACCESSORIES

CUSTOMER TRAINING

MODEL BUILDING &

REVIEW SERVICES

PROCESS ANALYTICAL

TECHNOLOGY (PAT)
新产品